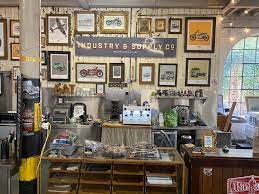 New cafe and showroom is now open.
A new year means a new showroom in Weedon, Northamptonshire. Based in 'The Depot' (originally known as The Royal Ordnance Depot). The building dates back to 1802 just prior to the Napoleonic wars.
The showroom is the new hub for our business. At nearly 2,000 square foot, it is bursting full of our artwork & merchandise. There are armchairs to sit, relax and enjoy a coffee. And as the space is big enough to drive cars into, we have our 1954 Thames Van inside which will soon be joined by our 1959 Triumph Bobber (as well as some interesting other vehicles on occasion).
There is loads of parking, turn up in or on something cool and we will photograph it and add it to our virtual visitors wall.